3 Weeks to Becoming Grateful
"TANK EWWW."
This was the response my friend's two-year-old daughter would say multiple times throughout the day as we gave her snacks, read her stories, and helped her with her daily activities. From a young age, we teach our kids the importance of saying thank you. I can't tell you how many times I've heard parents say, "what do we say?" in an attempt to prompt their child to say, "thank you."
Early on, we are taught the importance of gratitude — in essence, how to be thankful. But as time passes and we grow older, the concept of saying thank you often becomes an afterthought. Instead of being thankful, we are impatient, frustrated, or annoyed. And if we want to bring back the "lost art of gratitude," it starts with going back and learning to say "thank you" again.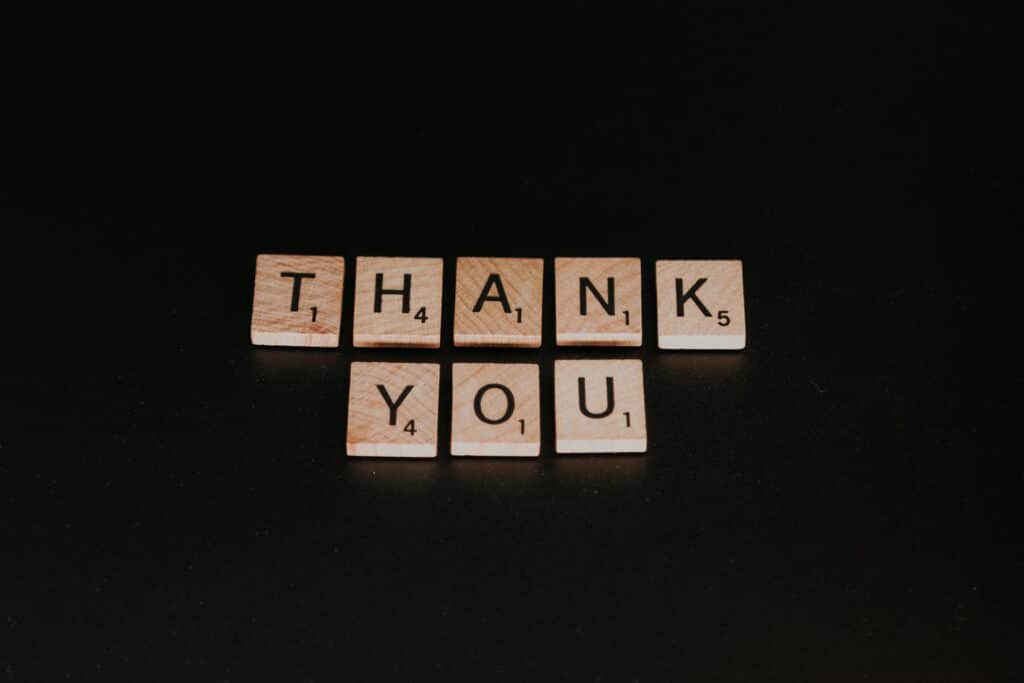 If you are anything like me, you are in complete shock that Thanksgiving is only three weeks away. To me, 2019 was six months ago, so the fact that it's 2021 and 2022 is just around the corner is still messing with my mind.
Thanksgiving brings about a new season calling us to be grateful. Grateful for our families, friends, job, pets, and so on. The list could go on for days. However, just spending any amount of time out in public, it's apparent to me that it's a lot easier to complain than it is to be grateful.
Over the next three weeks, we will get down to the basics of what it truly means to live a life of gratitude. In essence, we have three weeks to learn how to become grateful. We'll dive deep into some of the areas that can easily hinder us from living the lives of gratitude God calls us to. But today, we're going to start with something simple — relearning saying thank you.
Now, I'm not talking about your typical thank you scenarios — someone holding a door opens the door for you, tells you something is in your teeth, hands you something, brings you something you were expecting, and so on, you get the gist. I'm talking about going out of your way to say thank you to someone — being intentional. The best way to start having a posture of gratitude is to look for ways to say thank you. Why? Because it begins to shift your focus. It makes you look for moments to express gratitude outside of the normal, expected times.
So how can we be more intentional about saying thank you?
It starts with going out of our way to say it and not just saying it to the people we like or know.
This week let's challenge ourselves to do one of the ideas listed below:
👩‍🌾 Your Grocery store cashier. Thank them for ringing up and bagging all your groceries. And for you, those of you who are like me and use U-SCAN because you are impatient and like to avoid people, take a step outside your comfort zone and go to a check-out line with an actual person.
✉️ Your Mail Carrier. If you are home and see them approaching, walk outside and physically collect your mail from them, tell them thank you for delivering all your packages no matter the weather! If you are unable to greet them during the day, leave a Thank you note for them.
🏠 Your Neighbor! Have you ever just thanked your neighbor for being a great neighbor? Take a walk outside and knock on their door and say thanks!
👨‍👩‍👧‍👦 Your family & friends! Take a moment to say thank you to them for being who they are. Thank them for being a good friend to you or a good parent/grandparent. So often, we don't think to do this until it is too late.
The list could really go on, the barista at the coffee shop you visit every week, or for some every day, a co-worker, your boss, you fill in the blank. So often, we fail to say thank you to people who serve us because we believe they are just doing they're job. But if we are coming from a posture of gratitude, then even the fact that someone would choose to serve us, even if it's their job, should cause us to overflow with gratitude.
Take a moment and ask God to reveal to you some people you need to start being intentional about saying thank you. Maybe for some of you, saying thank you needs to begin with God — thanking Him for all you have and for His grace and mercy in your life.
Being intentional about saying thank you not only leads us into a posture of gratitude, but it also leads us to be intentional with others. And when we are intentional with others, we have an even greater opportunity to show them the love of Christ [stay tuned for more on this part 😉]
"I will give thanks to the Lord with my whole heart." -Psalm 111:1