what is baptism?
Baptism is an outward expression of the change that's taken place inside you once you've placed your faith in Jesus. It's an important step of obedience that symbolizes dying to your old self and rising again to new life in Christ. Ready to take this step in your faith journey? Let us know today by filling out the form below.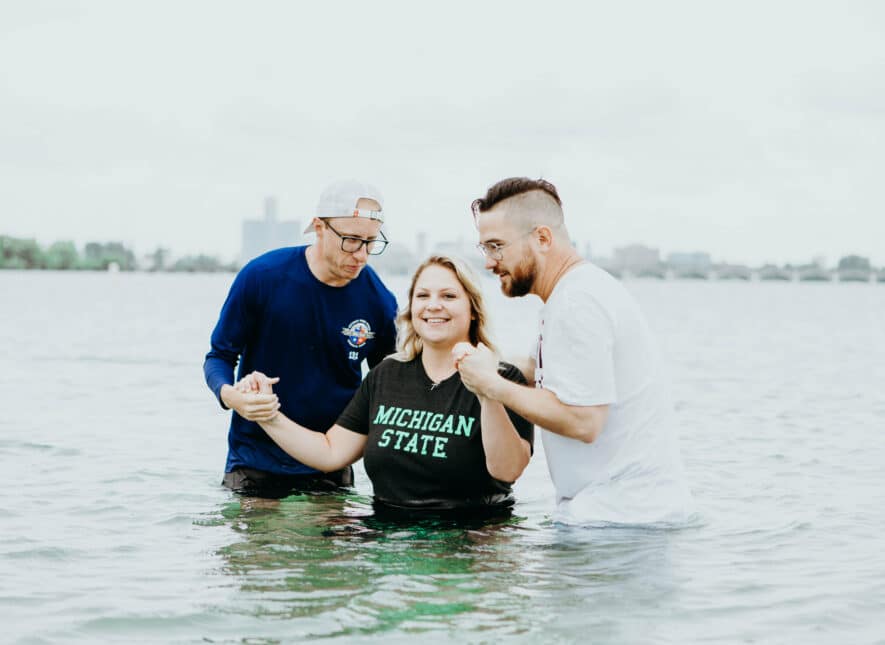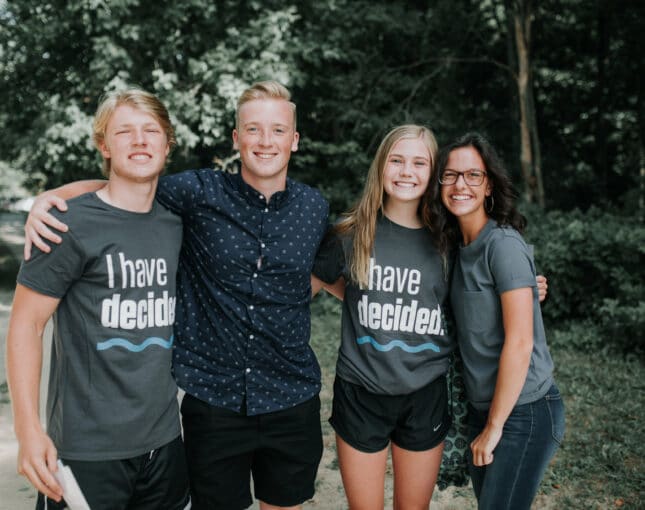 why baptism?
Jesus commands his followers to be baptized. In the Great Commission, Jesus made it clear that baptism is part of the process of making disciples of all nations: "Therefore, go and make disciples of all nations, baptizing them in the name of the Father and of the Son and of the Holy Spirit, and teaching them to obey everything I have commanded you. And surely, I will be with you always, to the very end of the age." (Matthew 28:19-20) Jesus himself was baptized, even though He had no sin, in order to set an example for us.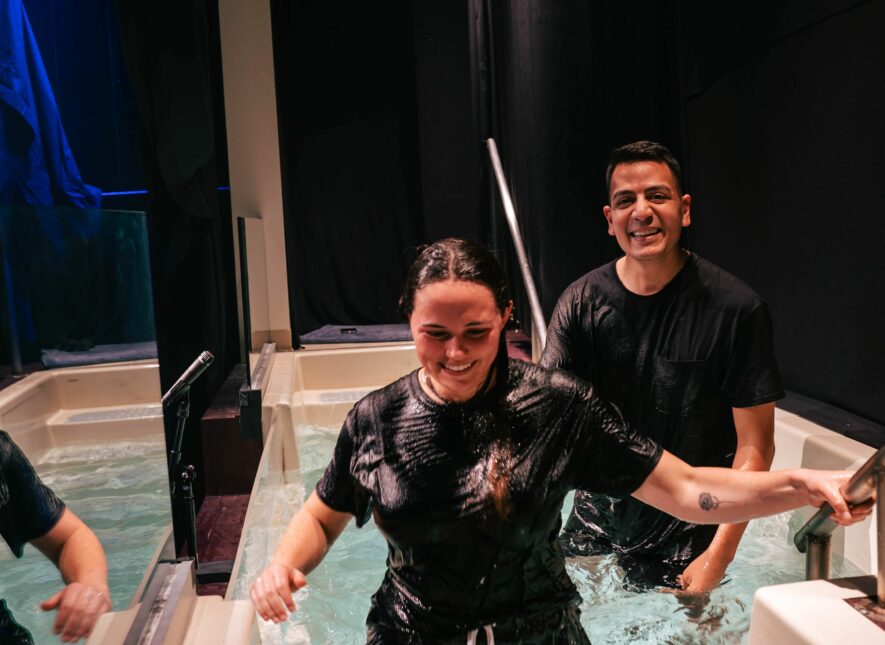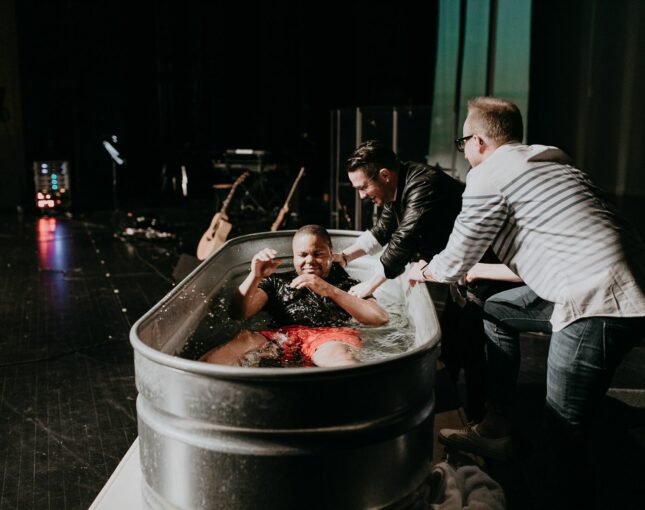 why immersion?
Baptism by immersion is a symbol of Jesus' death and resurrection. When we go under water, we identify with Christ's death and burial. When we come out of the water, we symbolize Christ's resurrection. Just as He rose from the dead, we now walk in a "newness" of life. (Romans 6:4,2; 2 Corinthians 5:17)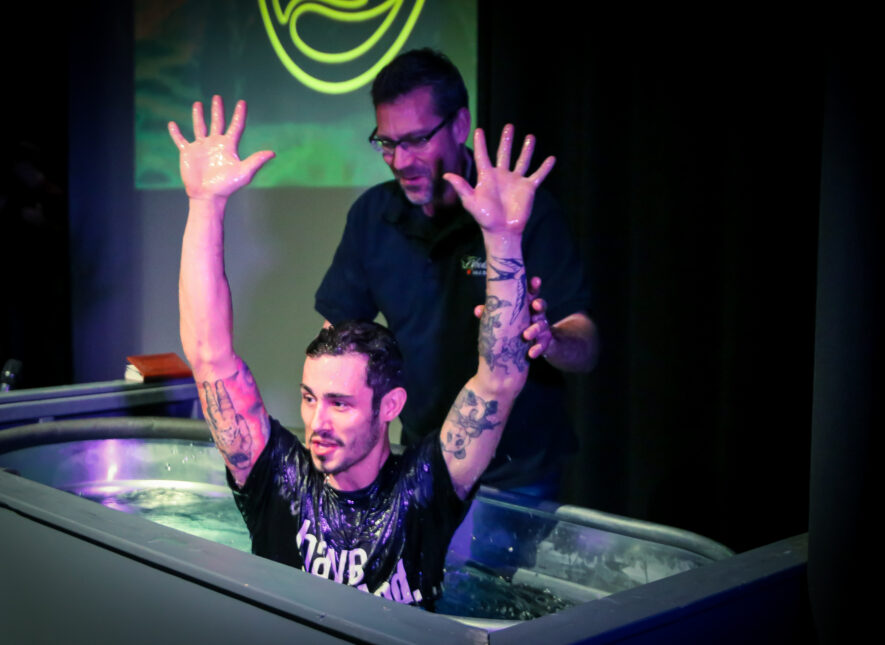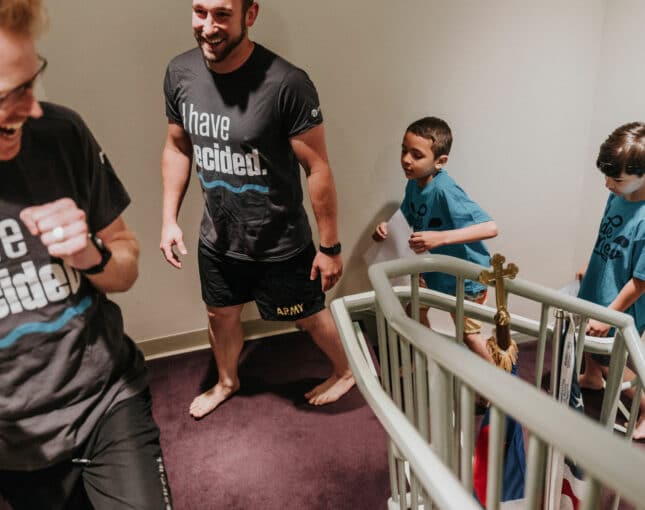 does it save me?
Baptism is not a requirement for salvation, but a step of obedience as you follow Christ after salvation. (Romans 10:9) Salvation is by faith in Jesus Christ alone. (John 3:16, Acts 16:31, Ephesians 2:8-9)
baptism FAQ
What should I expect when I'm baptized?
On the day of your baptism, you'll arrive 30 minutes before service to meet with a team member who will direct you to the changing room and review baptism details with you before praying with your pastor. You'll receive a t-shirt of your size to wear for your baptism. You are free to take this home and might want to bring a plastic bag to put it in because it will be wet.
WOMEN: Please wear a bathing suit and shorts (longer length, preferably dark)
MEN: Please wear a bathing suit (longer length) or shorts (preferably dark)
You may also want to bring a towel and toiletry items such as a blow dryer, make-up, hairbrush, etc.
Does Woodside baptize kids?
Kids can be baptized at Woodside after understanding the Gospel and responding in faith to surrender their lives to Jesus Christ. If you're talking to your child about baptism, check out our Gospel resource to guide your conversation about God's plan for them. Feel your child is ready to take the next step? Download our Kids Baptism Booklet and Baptism Application to get started today.
Does Woodside baptize infants?
We believe that a profession of faith is necessary for baptism because baptism is a symbol of our faith in Jesus which unites us with his death and resurrection (Colossians 2:12). Therefore while we dedicate and pray for our babies, we only baptize believers who can articulate their faith and declare that their life has been changed through faith in Jesus Christ.
I've already been baptized. Should I be baptized at Woodside too?
If you believe you were not baptized in a Biblical way or were baptized before salvation, or if you are surrendering your life to Christ again after a long period, you should talk with a member of our pastoral team about the possibility of getting baptized at Woodside.