I have a four-year-old daughter. Someone recently described her as a human ping-pong ball, and I laughed out loud because it was a perfect description. She is all over the place, plays non-stop, talks from sunup to sundown, and is a mini comedian. Quite possibly, the cherry on top is her natural ability to celebrate the smallest of joys in life.
One of my favorite things is near the end of the day when I get to tell her that her Daddy is almost home. The look on her face changes immediately, and the excitement is almost too much for her to take. So we make it a celebration! We put on silly hats, head out front and wait with much anticipation. Sure enough, my husband soon pulls in the driveway, and our little human ping-pong ball is now doing some wiggle-dance as he parks and exits the car. Then comes the best part — she sprints into her Daddy's arms, where he inevitably tickles her and flips her upside down [and I try hard to resist the urge to yell "BE CAREFUL!"]. Can you picture the uncontrollable giggles that come out of her as she is loved and cherished by her Daddy? That is what a celebration should be — joy personified!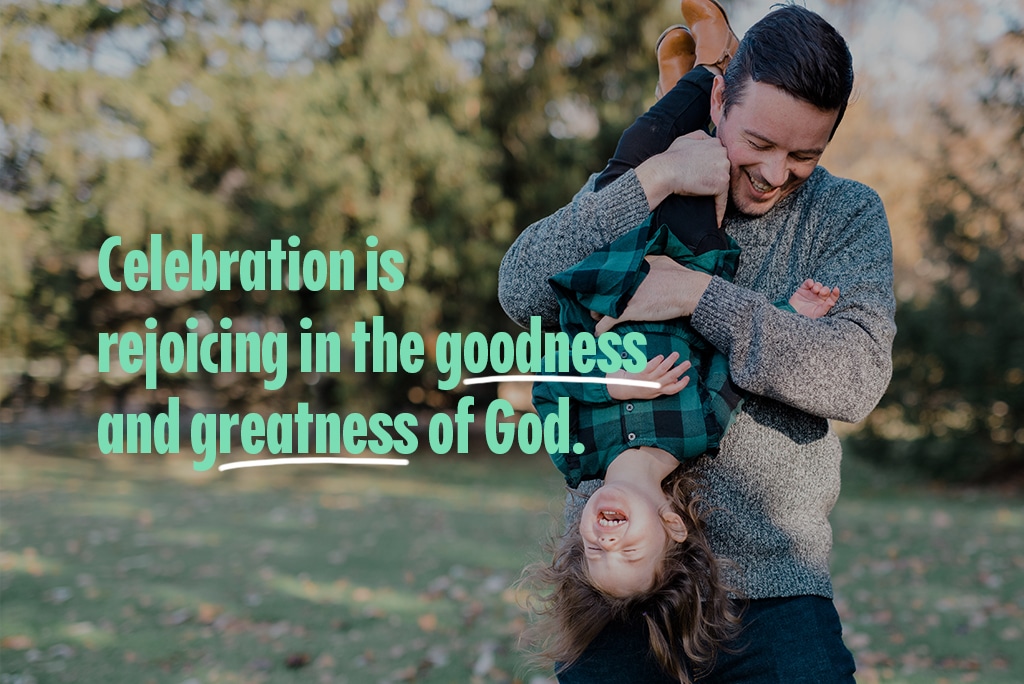 Joy is at the heart of celebration, and we, as followers of Christ, celebrate because of the good news of Jesus. Celebration is rejoicing in the goodness and greatness of God. It is laughing freely as we are loved on and cherished by our Father. But how do we do that practically? How can we celebrate more often in our lives? Let's take a look at a few ideas!
🙌🏼 Celebrate in Worship
Possibly the best way to celebrate is through worship. We just spent more than a year in isolation and many weeks without worshipping together as a church family. The first Sunday we were able to be back in person was a great reminder that we cannot forsake celebration through worship. When the church is gathered together, shouting songs of praise — it doesn't get any better! Don't abandon Sundays and celebrating our Savior, salvation, grace, community, and the ability to do it freely.
🌳 Celebrate in Community
Celebration isn't about extravagant events or gifts. It's a posture in your heart that you can share with others in your community. Cultivate friendships and support in your life that will celebrate alongside you and join a Life Group if you haven't already. These relationships are the ones that will pray for you, encourage you when you don't think you can go on, rejoice with you, and mourn with you. And in the same way, be a person who celebrates with others. Congratulate them on their success, take them to lunch after a promotion, rejoice in their new baby, remember the dates that no one else does but mean something to them, drop off a surprise, send an encouraging text, and pray for them. If you spend a few minutes thinking about it, I'm sure you could come up with quite a list of fun ways to celebrate the people in your community regularly.
🏠 Celebrate in Your Home
In our house, we love to have any reason to celebrate. Yes, we have birthdays with the special plate and anniversaries, holidays, and other common days of celebration. But we also love a kitchen dance party following a good day of potty training. A picnic in the park because it's Thursday, and we've almost made it through the workweek or ice cream for dinner after a successful ballet class. Celebration is not just an attitude. It's something we do. We dance. We sing. We play. We laugh. Consider how you can celebrate in your home in new and creative ways. Seek out those small moments of joy that happen each day and celebrate God's faithfulness together.
🌪 Celebrate in the Storm
It's easy in life to get distracted by the mess — the mess of our sin, our circumstances, or even the literal mess in our homes. We can forget that God has parted seas and delivered manna on our behalf. And when difficult seasons of life come, it seems a whole lot easier to shake our fists in anger at God rather than throw a party. Grief and lament have a real place in our journey, but celebration can also do a mighty work in our lives and in our hearts. It invites us into God's joy by remembering and creating a marker of his continued faithfulness and goodness.
Celebration anchors us in a story that goes much deeper than heartache, loss, and the pain of our circumstances. It's a story that tells the good news of Jesus and His truth through the storm. Celebration is not dependent on our circumstances but is entirely dependent on HIM. It allows us to look back with gratefulness and forward with hope.
So let's celebrate and celebrate often!
Psalm 150
1 Praise the Lord.[a]
Praise God in his sanctuary;
 praise him in his mighty heavens.
 2 Praise him for his acts of power;
 praise him for his surpassing greatness.
 3 Praise him with the sounding of the trumpet,
 praise him with the harp and lyre,
 4 praise him with timbrel and dancing,
 praise him with the strings and pipe,
 5 praise him with the clash of cymbals,
 praise him with resounding cymbals.
6 Let everything that has breath praise the Lord.
Praise the Lord.