4 Ways to Engage with God's Word
How many times have you said, either out loud or to yourself, "I wish I read the Bible more"? Maybe you can't seem to get engaged, understand what it's saying, or find what you're looking for to get you through life's current struggles. Or you've never opened a Bible before and don't know where to begin. Maybe you decided to read the Bible in a year, and getting through all those laws without context is tough (don't worry, we've all been there).
Truly engaging with Scripture is one of the core disciplines of the Christian faith. That is, those who call Jesus their Lord and Savior must undoubtedly spend time in the Word of God. After all, if the Bible is not truly the inspired Word of God as we believe, without error and the perfect authority over our lives, and the direct message God speaks to us, then the Christian faith inevitably crumbles. Spending time in the Bible isn't just to learn; spending time in the Bible is spending time with God.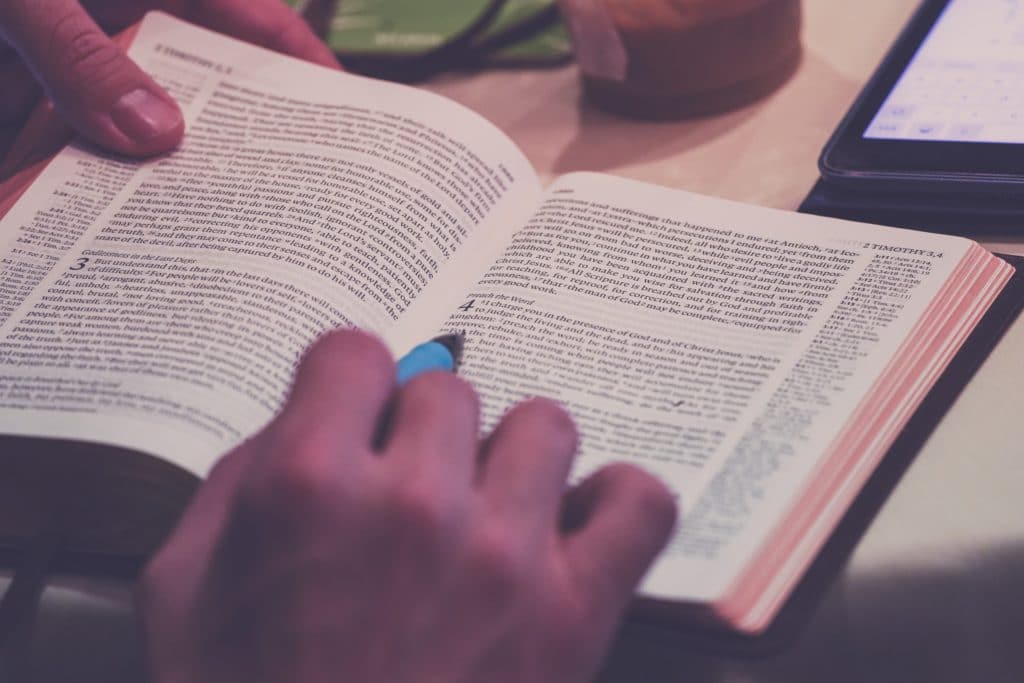 So, the question remains: How do we begin to engage with the Bible?
Here are four things that can guide us towards greater understanding, learning, and intimacy:
1️⃣ Posture. Essentially, this is how we approach the Bible when we open its pages. Everything we expect from reading must depend on what the Bible is, on why God inspired it to be written. The Bible, we can say, is God's primary means of speaking to us. Not only is it a perfect account of redemptive history, but it is also His words to us and for us. When we approach reading the Bible in this way, we do not read the Bible as a textbook or even as a self-help book, but as the most important words we will ever lay eyes on.
Ask yourself these questions before, during, and after each passage you read: What is this saying about God? What is this saying about me? And finally, how should this change how I live? Pray for the Lord to open your eyes, ears, and heart. "Your word is a lamp to my feet and light to my path" (Ps 119:105).
2️⃣ Consistency. Just like you need to drink water and eat to keep the body alive and healthy, living water and the bread of life sustains us each day. We simply cannot expect to grow without the water of the Word in us and the sunlight of the Spirit on us. Therefore, we need to be in the Word every day. As Jesus said when the devil tempted Him, "Man shall not live by bread alone, but by every word that comes from the mouth of God." (Matt 4:4)
3️⃣ Saturation. While this may seem like an unusual term for Bible study, here, I specifically mean the nature of making Scripture (and of course, faith in Christ in general) genuinely affect and permeate every aspect of our lives. This means not just opening the Bible for five minutes in the morning to check off an item from our agenda but truly making the time to engage. It means consulting Scripture before acting on emotions. It means sacrificing something nominal for something sacred. Scripture must change the way we act but also the way we think. "Where your treasure is, there your heart will be also." (Matt 6:21)
4️⃣ Community. This is where we'd fit sermons, pastoral instruction, mentors, books, videos, and so on. We search and ask questions from those wiser than ourselves to know the Author better. It is important to read the Bible on your own, but do not neglect reading and studying in a group and as a congregation. As we see from the giving of the Spirit, "They devoted themselves to the apostles' teaching and the fellowship, to the breaking of bread and the prayers." (Acts 2:42)
I'll be the first to admit that putting all this together and into practice is a lot harder than it sounds. When we approach Scripture as authoritative and sacred, listening to the voice of the Spirit speaking through God's words and responding by His power, something amazing will happen. We will find ourselves in an intimate relationship with God, glorifying and enjoying our Creator, and equipped for His service.
"All Scripture is breathed out by God and is useful for teaching, rebuking, correcting, and training in righteousness, so that the servant of God may be thoroughly equipped for every good work." (2 Timothy 3:16–17)
Today I challenge you to make the time to sit down, read the Bible, and spend time with God. You could even start with five minutes and one chapter. Tomorrow, try 10 minutes and two chapters. Find a rhythm that works for you to approach God's Word with posture, consistency, saturation, and community. In time, it may just be that you find joy in the voice of your heavenly Father found in the pages of Scripture.
"God gives us Scripture as our word of life: the trustworthy, clear and sufficient means of knowing Him and remaining in covenant relationships with Him, in the power of the Holy Spirit, right up until the day we shall no longer need it, because then we shall see face to face."— Timothy Ward, Words of Life