Breaking Christmas Traditions, Pt. 2
If you haven't had a chance, check out part one of our Breaking Christmas Traditions series, here.
How many times have you been told in your life that the true reason we celebrate Christmas is because of the Birth of Jesus Christ? Jesus is the reason for the season, right?
Yet, we spend 90% of this season celebrating each other; attending gatherings, decorating, shopping, buying Christmas presents, staff parties, family parties, the list goes on and on. While these festive gatherings and activities with loved ones are wonderful, if we're not careful, they can become a distraction from the true purpose of this season.
By the time December 24th hits, we are often burnt out and forget to turn our hearts to reflect and ponder the real reason of the season. By this point, we're usually so ready for holiday craziness to be over, we forget why it even came in the first place.
How can we make the chaos of Christmas and holiday parties more about CHRIST and less about priorities and to-do lists before the end of the year? How can we shift our focus to spending more time with Jesus this holiday season?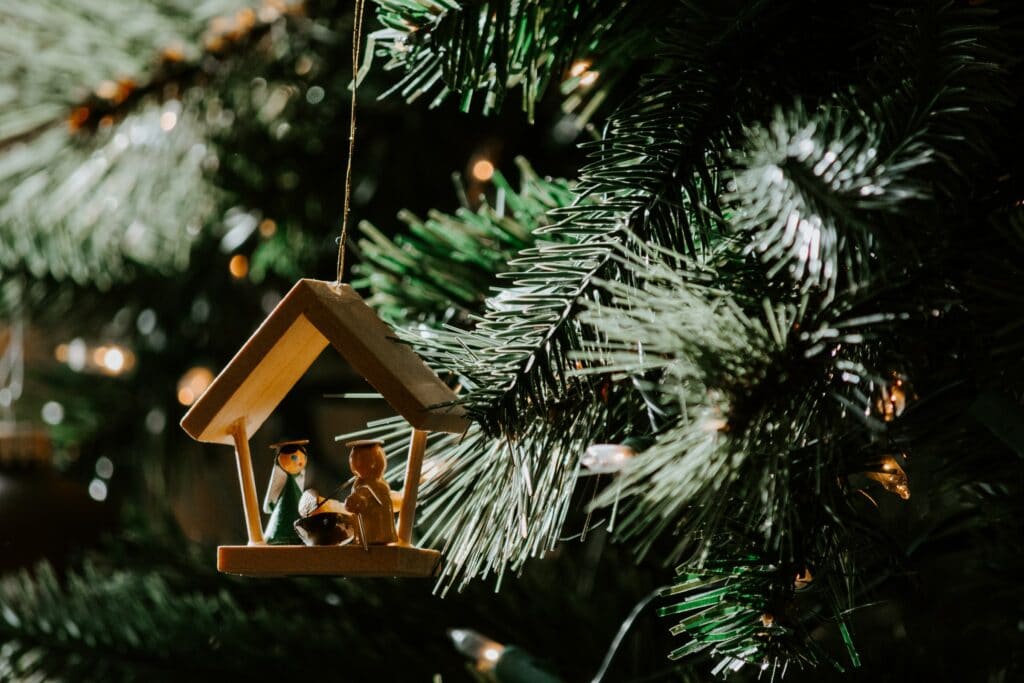 Luke 2 shares the story of the Shepherds learning of the Birth of Jesus. When reading this passage, the importance of Jesus to the shepherds was obvious. They dropped everything to go and see Him.
It says in verses Luke 2:8–11
And there were shepherds living out in the fields nearby, keeping watch over their flocks at night. An angel of the Lord appeared to them, and the glory of the Lord shone around them, and they were terrified. But the angel said to them, "Do not be afraid. I bring you good news that will cause great joy for all the people. Today in the town of David, a Savior has been born to you; he is the Messiah, the Lord. This will be a sign to you: You will find a baby wrapped in cloths and lying in a manger." Suddenly a great company of the heavenly host appeared with the angel, praising God and saying,

"Glory to God in the highest heaven,
and on earth peace to those on whom his favor rests."

When the angels had left them and gone into heaven, the shepherds said to one another, "Let's go to Bethlehem and see this thing that has happened, which the Lord has told us about."
I'm sure these men had other things on their to-do list when the angels decided to interrupt their evening and call upon them. But rather than worrying about the work that was yet to be completed, they answered the call with ready hearts. They left their posts and eagerly went to seek the Savior.
Are you prepared to move as the Spirit calls you this season? Are you readily seeking the Savior through the busyness of the season? Do you remember Him as your schedule fills with events and reminders?
This year, I hope that we consider doing something different during this season. Even if that's changing just one habit or tradition that leaves more space for Jesus. Take a few moments and reflect on the four challenges mentioned in last weeks blog [again, you can reference them here]. Pray that God will reveal to you what traditions you need break, shake, or make to seek Jesus this season and like the shepherds, answer the call as the Spirit moves us.
I know for many of us, that can be a lot to ask with Christmas traditions and expectations from friends and families, but when we turn our attention to Jesus, it opens up opportunities to see Him work in our lives. Furthermore, it opens up opportunities for others to see Jesus work.
From inviting someone into your home to serving in your local community, or even simply spending more time in prayer, there are many opportunities to turn the focus on Jesus this Christmas season. Doing so not only strengthens your relationship with Him, but it brings Him ultimate glory by shining a light in the community and showing a watching world that Jesus is here. He was sent here by God and born to a virgin. He lived a perfect life. He died for our sins. And He rose victoriously from the grave and invited us into a personal relationship with Him.
­­So, let us join together and spend more time focusing on the true reason for the season.