How to Begin Breaking Down the Stigma of Mental Health
How do we break down the stigma surrounding mental health and normalize conversations of struggling with anxiety, depression, or emptiness? This task is a daunting one. I'll be honest. I've struggled with mental health issues for as long as I can remember, so when there's an opportunity to break down the stigma, I'm like YEAH COUNT ME IN. But then I get here, and I feel overwhelmed. How can I, one person with just one story, speak into the flood of opinions and experiences surrounding this widespread topic? I think it starts with just being willing to share.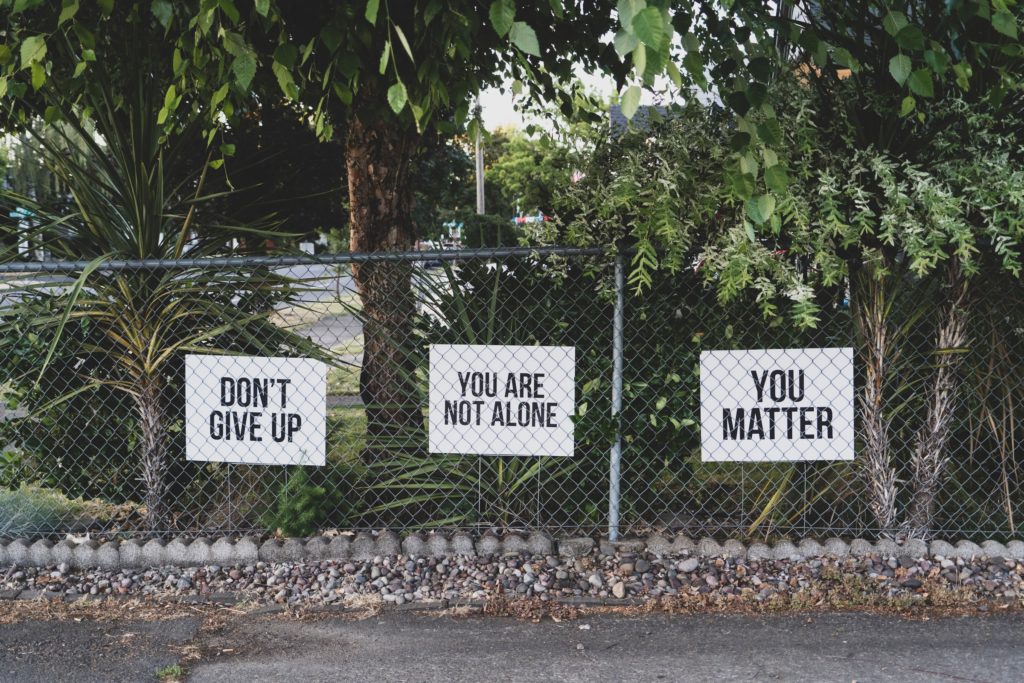 Since I was a kid, I remember having moments of anxiety that would wash over me and prevent me from enjoying everyday things, like school. I had so many fears, and I'm not even sure where they came from or how they started. As I grew older, my anxiety developed and changed, as I did, but it never left me. It wasn't until college when I finally had a name for my struggles. Up until then, I just thought it was "my normal." I thought I was just too emotional, or I felt too many feelings. But I never really had a medical explanation as to what my struggle could be.
During college, I began seeing a Christian therapist. I was so terrified before that first appointment. I felt like, wow, I must be a malfunctioning human being if I need to see someone. The rhetoric surrounding counseling up to this point in my life must not have been great, because I didn't feel good about the step I was taking. Thankfully, I have parents that were incredibly supportive and encouraged me in this decision, which I am deeply grateful for. 6+ years later, I still see the same therapist, and words cannot express how much of an impact it has had on my life.
Through the help of counsel, I was able to put a medical name to what I was dealing with. I was able to receive accurate information regarding medication and other treatments I could feel comfortable with practicing. I should mention, during this time of journeying towards a healthier mind, I came to Christ, as well. This decision added layers of grace, freedom, and joy to my journey. However, it added some layers of confusion.
Just because I still struggle does not mean I'm not a faithful Christian
Mental health in the church can be a difficult subject at times because I think some people tend to believe that if you're in Christ, how can you be anything but joyous and happy and full? And don't get me wrong, Jesus IS THE source for these things, and I would not be as far as I am into my journey without His grace and mercy in my life. But through seeking wise counsel and listening to research, I'm now able to understand that just because I still struggle at times does not mean I'm not a faithful Christian or that I'm not praying hard enough.
I like to relate this ongoing battle in my life to Paul's experience that he explains in 2 Corinthians 12. He tells his readers of a thorn placed in his side that he's pleaded for God to remove, yet God leaves it there. What does Paul tell us God's response to him is?
"But He said to me, 'My grace is sufficient for you, for my power is made perfect in weakness'" (vs. 9).
I think there's a reason Paul didn't specify what his thorn was. This way, readers across generations can hear Paul's heart and relate to whatever may be their thorn. For me, it's anxiety. But the hope that lies in these verses brings me so much comfort, a reminder that God's grace is enough for me. His power is made complete in my weakness. That means His glory can be all the more magnified through me, someone who is flawed and can only be made whole through Him.
I love Paul's reaction to God's response:
"Therefore I will boast all the more gladly of my weaknesses, so that the power of Christ may rest upon me" (vs. 9).
He says he will BOAST in his weakness, knowing that the power and hope of Jesus can be shown through his faithfulness to God, even through his weaknesses. What a beautiful thought. Instead of being filled with shame or guilt or feelings of unworthiness for a struggle I didn't choose to have [as our enemy would prefer], I can feel glad and hopeful knowing that God can use my shortcomings to help others. He can use my struggle to bring glory to Him through my testimony of continuing to have hope and continuing to trust that He is good.
I was told that those with anxiety often experience a more profound sense of empathy for others. I think too often we let the world define for us what is normal or what is useful, so that when we have struggles that seem "abnormal," we begin to think we're defected or useless. But what if God allows certain people to have specific struggles so that through their experience, they can feel the pain of others? They can be quick to lend a helping hand, or be a listening ear, or be an example of what it means to follow Jesus even through the struggle.
If you're someone who deals with anxiety, depression, or any other form of mental illness, I encourage and challenge you today to view yourself through this lens and know that there is always a purpose behind every season of life we go through. God can use you and your struggle in mysterious, beautiful ways.
If you have a few moments, check out one of our recent episodes of The Link! Makayla, alongside John Opalewski talk about the importance of breaking down the stigma surrounding mental health and discuss the struggle with Anxiety many of us experience.