"If any of you lacks wisdom, let him ask God, who gives generously to all without reproach, and it will be given to him." — James 1:5
Have you ever been given this verse before by someone when you are really struggling with life; or possibly this verse from the book of Matthew, "Ask, and it will be given to you; seek, and you will find; knock, and it will be opened to you" (7:7). One way or another, you're going through something hard. Downright tragic. And in your grief and pain, you may have just gotten the age-old response, "just pray about it."
Now before you go check to see if you're still on a Christian blog site, hear me out. I am not telling you that prayer is wrong. What I want to address is that all too often, these verses get twisted into something they were never meant to be; these are not verses promoting that God will, in fact, give you what you want. Nope. And prayer is no longer treated with the reverence it deserves, but rather a last-ditch effort after asking everyone else for advice and maybe writing your pros/cons list.
Often when we are facing trials, decisions have to be made. Or possibly a decision was forced upon you, and the question you need an answer to is, "what do I do now?"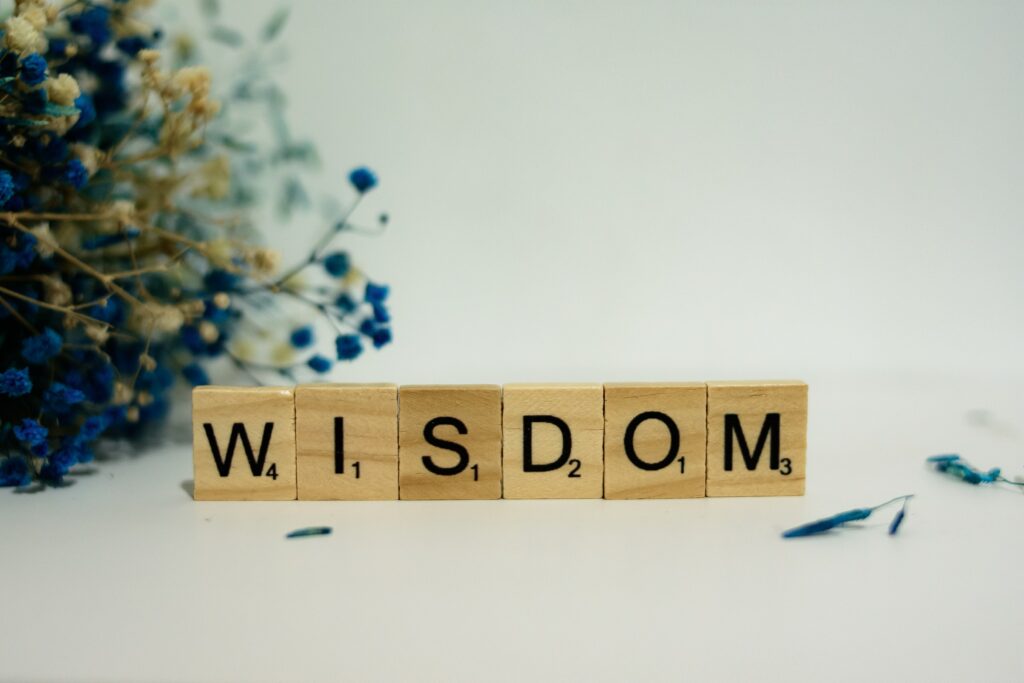 While verse 5 in James is so frequently recited, it's the verses before and after it that give us the true context of actually receiving God's wisdom.
Before this verse, the author talks about our faith being tested.
"Count it all joy, my brothers, when you meet trials of various kinds, for you know that the testing of your faith produces steadfastness. And let steadfastness have its full effect, that you may be perfect and complete, lacking in nothing." — James 1:2–4
It's important to remember this because we see how the relationship between us and faith needs to be when we come to a place seeking God's wisdom. We're in our trial. We are hurting desperately, so where is our faith? Was it shaken? Did we lose trust or our relationship with God? These are all major factors in seeking wisdom from God. To obtain His wisdom, we must first have a deep dependent relationship with Him!
And then, we look to the verses that follow, which also reinforce this outlook.
"But let him ask in faith, with no doubting, for the one who doubts is like a wave of the sea that is driven and tossed by the wind. For that person must not suppose that he will receive anything from the Lord; he is a double-minded man, unstable in all his ways." — James 1:6–8
These verses emphasize the vital importance of having a relationship with God. Have you heard of the phrase "foxhole Christian"? It's an older term I remember hearing at church. In summary, it describes a person who doesn't have much to do with God until life gets rough and needs something. When life is easy-breezy, they got this, but once they realize they are in the middle of a devastating war, "where's God?" When James speaks of the "double-minded man," he says of a person who wants God's wisdom but also wants the world's wisdom when God's doesn't fit their narrative.
Now, this isn't said to shame anyone, but more to press in that one should seek God now before a trial overwhelms you. God's wisdom is obtainable to those who are aligned with Him, understand His Word, and desire what He desires. This can only occur when we've committed our lives to Him and practice daily to be in relationship with Him. This doesn't mean we won't have our moments of doubt or struggle, but we still trust in the character of God — who we know He is.
Now, I know some of you might be in those traumatic circumstances right now, and it's opened your eyes to how distant you are from God. Maybe, you don't even know Him at all. I encourage you to still seek Him first! It may not feel easy or simple, but God so desperately wants a relationship with you!
We see this further through the words of Jesus, in John 14:
"Truly, truly, I say to you, whoever believes in me will also do the works that I do; and greater works than these will he do, because I am going to the Father. Whatever you ask in my name, this I will do, that the Father may be glorified in the Son. If you ask me anything in my name, I will do it."
It is not simply that He will do anything for us. It is that we believe in Him, do what He does, trust in the Father's work, are imprinted with Jesus's name, and are glorifying God with our actions!
I highly encourage you to go to God in prayer today. Ask Him for wisdom. Ask Him for the baby steps to take to get closer to Him and build a genuine relationship with Him. Cling to God. Make daily practices that will only bring you to Him and learn more about Him!