How To Value People Over Possessions
My favorite days in elementary school were always the ones when we had special classroom guests. Whether it was a doctor, dentist, or police officer, their visits meant two things. One, we didn't have to "do school" for a few hours and two, they always had some fun activity we got to do related to their job. My favorite classroom guest was always the firefighters. They'd roll up in their firetruck, have cool things we'd get to crawl through, fire drills we got to participate in and of course we all got to take turns turning on the fire hose. Those were the days.
On those days, without fail, my teacher would ask us the question, "what is one thing you would grab to save from the fire if you could?" As kids we'd all answer some toy, a blanket we loved, or our pet goldfish that we won at that year's school fair [not being specific over here or anything]. The older I got the more that answer would change to something a bit more sentimental in nature, something that in my mind seemed irreplaceable. Now, looking back on it, I find it somewhat odd that no one ever responded with, "my parents" or "my siblings." Did we all forget to check on the living?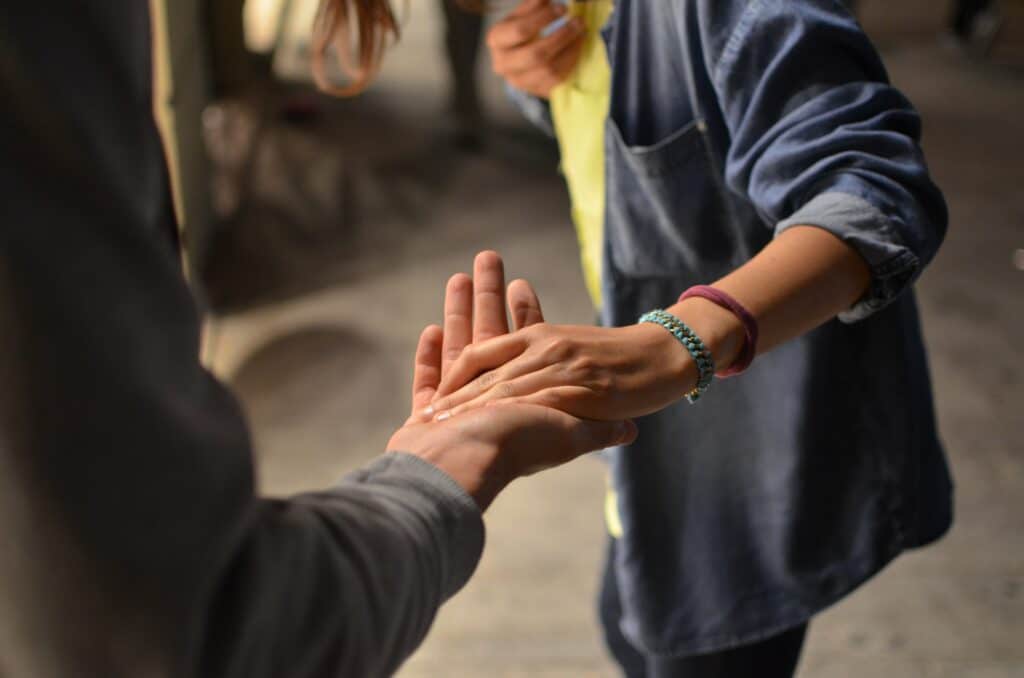 It's really easy to get caught up in what we have or don't have and miss out on the fact that people are what matter most. Now, I know deep down we'd all want to make sure our family got out of the fire before we'd start grabbing our material possessions [at least I hope so!]. But many of us still have the mindset that there are things in our lives that matter more than the people around us.
Often, we believe the lie that the things we have — possessions, families, careers — somehow define us. That our identity is somehow rooted in what we have or don't have. It reminds me of a student I met at my new school in 8th grade who introduced himself as, "Hi I'm ______, and I have big screen TV at my house" as if that was the most important characteristic about him. When we begin to believe our worth is in what we do or don't have, we miss out not only on where our value truly lies [in Christ], but what we begin to value what the world tells us to value.
I've been challenged by this thought recently: "Knowing that my value and identity are found only in Jesus, and Jesus spent His entire time on earth valuing people over things, what would my life look like if I did the same?" As I began to process the answer to this, I was moved by the words found in James 1:27. It says,
"Religion that is pure and undefiled before God the Father is this: to visit orphans and widows in their affliction, and to keep oneself unstained from the world."
The Greek word for "visit" in this verse implies not only going to see orphans and widows, but caring for them. Craig Blomberg* states, "Orphans and widows, lacking fathers and husbands, respectively, formed to paradigms of the needy and dispossessed in patriarchal societies." Essentially, the society they lived in placed no value or dignity on their lives — they didn't matter. Blomberg continues, "Our concern for the helpless of society, including the ones who make us uncomfortable, demonstrate that our religion is pure. James asks, in essences, 'Did you in fact realize that meeting of needs is not peripheral, nor optional, but central and obligatory to your faith?'"
Because of God's love for us, caring for people above all else is not optional. It's essential. If we are followers of Jesus, this is what matters most. The society we live in values wealth, possessions, careers, etc. more than the people who make it up. If you don't believe me, look around. Look at how much people spend on stuff they don't need versus the people who need it most.
If we want to begin to be people who live out James 1:27, I think a good place to start is with these two things:
1️⃣ Realize your value comes from Jesus and nothing else. When we rest secure in Christ, we no longer feel the need to impress people with more and more possessions. Our focus shifts from ourselves to the Savior, and we begin to value the things He does — namely, the people he created for us to love.
2️⃣ Follow His example. In a recent sermon, Pastor Jeremy Writebol said, "As a completely human man [Jesus], He lived to serve and gave Himself to care for the needs of the poor and marginalized. He served and loved the lame, lepers, unclean, poor, outsiders, widows, women of ill-repute, and orphans. Jesus was constantly caring for the needy." What can you do to follow in His footsteps?
Giving to others requires sacrifice. It may mean not having the latest and greatest thing but instead giving that money to someone in need, like by making dinner for a friend who could use a blessing or fulfilling a need at a local homeless shelter or pregnancy resource center. Valuing people over possessions means we have to start looking outside of ourselves and focusing our attention outward — following Jesus' example.
Jesus had everything, yet He emptied Himself out for us. Let's be people who do the same!