The Healing Power of Justice & The Longing for Eternity
"…When justice is done, it brings joy" (Proverbs 21:15)
Bittersweet. This word reveals a unique part of our design. God has gifted us with the ability to experience contrasting emotions at the same time. Our capacity for both joy and mourning simultaneously is an integral quality for navigating with hope as we journey through a fallen world. This is because life is rarely simple. Even the most basic of issues requires nuance. The more significant a matter, the more multifaceted our emotions and the more thoughtful our analysis must be. Such is the case as we reflect on the death of George Floyd and the subsequent verdict for former officer Derek Chauvin.
Having received a fair hearing in court, Chauvin was found guilty of second-degree unintentional murder, third-degree murder, and second-degree homicide by a jury of his peers. The next phase in the judicial process will be sentencing. While there are still legal steps that remain, the conclusion of the trial for former officer Chauvin allows us to reflect on the meaning of this historic moment.
We should not be surprised if we find ourselves feeling dual emotions — bittersweet. The Bible is clear: justice brings joy. Whenever there is rightful accountability for wrongdoing, those who were mistreated and wounded are afforded the blessing of a measure of closure. As a parent who has lost a son, this is my hope for the family, friends, and loved ones of George Floyd. Closure is a much-needed step of healing in the grieving process. I am grateful that even in the darkness of pain, there can be glimmers of joy when justice is done.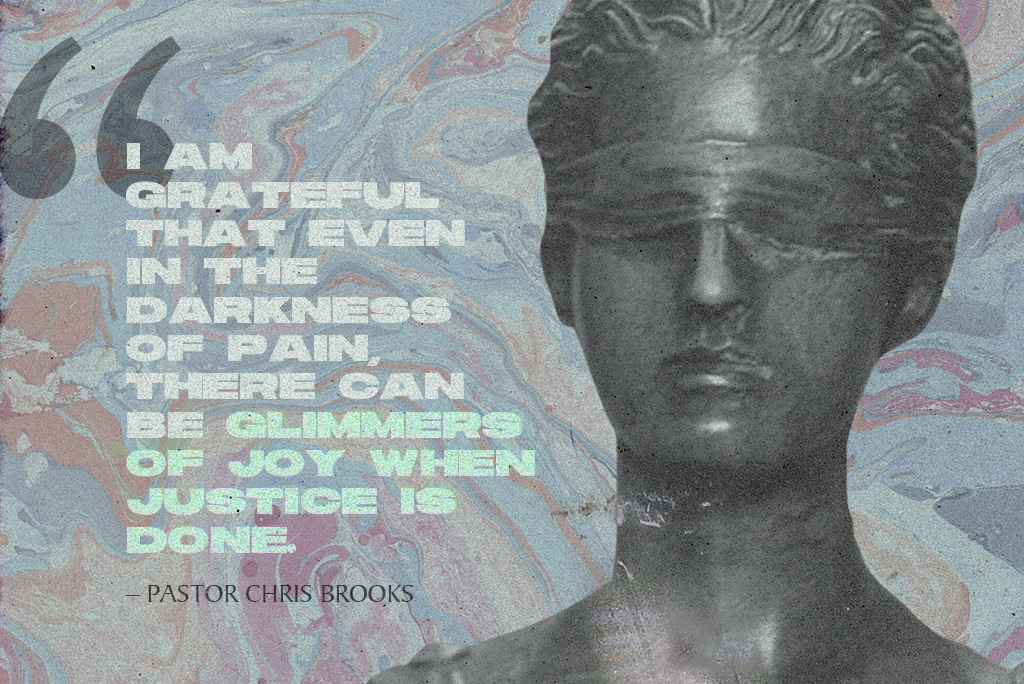 Whenever righteous judgment prevails against evil actions, there is an infusion of communal hope that we all experience, as well. This is particularly true among groups for which justice has been all too elusive. This collective hope is why scenes of people crying tears of joy and some even dancing in the streets are streamed across our televisions and newsfeeds after the announcement of a guilty verdict. For one very sweet — albeit brief — moment, justice had prevailed. George Floyd's humanity was affirmed. His murder, which was viewed by millions around the world, was acknowledged. The fear that somehow evil would once again find a way to avoid judgment was momentarily quelled. For those who held their breath during so many past trials, hearing the word "guilty" brought about a collective sigh of relief. As the Proverb writer reminds us, it is right for us to rejoice when justice is done.
So, I rejoice that our nation had peace instead of protests. I rejoice that Derek Chauvin won't have the opportunity to hurt anyone else. I rejoice that a generation witnessed our judicial system working fairly for all, even the poor. I rejoice for men and women like my mom and dad, who still live with the scars of Jim Crow. For them, justice not only brings joy but also brings healing.
But, amid my rejoicing, I am also reminded of Romans 12:15, which commands us to "…mourn with those who mourn." Our obedience to this command that calls us to lament doesn't cancel out or even overshadow our joy, but it does remind us that we are still living in the "already" but "not yet." The Kingdom has come because Jesus Christ, our King, has come. In Him, we have resurrection and life. Yet, we yearn for the fulfillment of the promise that a day is coming when there will be a new heaven and earth. Until then, we are left to live in the in-between and to feel bittersweet. We live with both joy and mourning.
So, I mourn that this verdict does not bring George Floyd back. I mourn that his daughter will still have to grow up without her dad and that his mother is still unable to hold her son. I mourn over the divisions that exist among people who profess to share a common faith in Jesus but neglect to uphold the unity of the Body.
I also mourn the long shadow Derek Chauvin's actions have cast on the hundreds of thousands of law enforcement agents who serve our communities with honor and integrity. These police officers have a right to our full support and their families deserve our faithful prayers. With respect for these men and women, I'm reminded our hearts should grieve any and all injustice; as we grieve the unjust murder of George Floyd, we also ache for the many who are being attacked and disgraced over the actions of the few.
Mostly, I mourn because we have all been traumatized by an act of evil that never should have happened.
So, where do we go with our bittersweet emotions? The answer is Jesus. We fix our eyes on the hope of the Gospel, which is altogether sweet. Only in Christ do we have the joy of knowing that one day the bitterness of this world will succumb to the promise, "Behold, I am making all things new" (Revelation 21:5).
Our hearts must never lose sight of the goal of the Gospel: reconciliation first to God and then, in Christ, to one another. Achieving this reconciliation requires both repentance and forgiveness. We must avoid this world's temptation to develop bitterness toward groups of people, precisely because Christ calls us to love — even to love our enemies. So, while we pray for the Floyd family, let us also pray for Derek Chauvin and his family. As a spiritual family our desire should always be to build bridges, not to erect walls. And so, my prayer is that this moment would motivate us to deepen our commitment to our unchanging mission.
In both joy and mourning, we are called to glorify God by making disciples. Only this will bring the ultimate justice that our hearts long for.