What Freedom Really Looks Like
Mind if I ask you a personal question?
What is your deepest, darkest sin? You know, the one that controls you, alone, in the dark? It's that one that makes you hate yourself. The same one you've never told a single soul because you know exactly what they'd think, how they'd look at you. The one that has you by the throat. Chained. Hopeless.
You know what it is. So, name it.
Now think about all the times you've put on a face and walked through life convincing yourself and others, "There's nothing wrong with me."
The times you've welcomed your spouse home with a smile after feeding your porn addiction while they were out. Or when you've tried everything to sober up before heading into the office. Before picking up the kids.
Fill in the blank, friend.
What I'm describing here is as old as the Fall — when sin infected humanity for every generation to come (Genesis 3). The Apostle Paul describes our plight in his letter to the church in Rome:
For I have the desire to do what is right, but not the ability to carry it out. For I do not do the good I want, but the evil I do not want is what I keep on doing…Wretched man that I am! Who will deliver me from this body of death?
Romans 7:18b-19; 24
Every one of us longs to do what is right. But every one of us cannot do so. In other words, you don't have what it takes to defeat that sin that's enslaved you. Scripture says so.
The good news? You don't have to. Because as we turn the page to Romans 8, we meet the One who has — who is — exactly what it takes to conquer your sin and the death it reaps.
There is therefore now no condemnation for those who are in Christ Jesus. For the law of the Spirit of life has set you free in Christ Jesus from the law of sin and death. For God has done what the law, weakened by the flesh, could not do. By sending his own Son in the likeness of sinful flesh and for sin, he condemned sin in the flesh. — Romans 8:1–3
The bottom line: If you've placed your faith in Jesus, you are free.
Don't believe it? Hear me out. The first step to experiencing the freedom already available to you in Christ is to recognize that sin doesn't have power over you anymore.
Let me say that once more because the Father of Lies wants desperately to keep you from the truth you're reading today. Here it is again: Freedom is already yours in Christ. And you're about to experience it now that you know sin doesn't have power over you anymore.
To be clear, temptation and sin will still be present in your life until you're perfectly restored in Heaven. That's the reality of this fallen world. But sin's power to enslave you died the day Christ did.
As Pastor Jacob Ley shared in a recent message on this topic, "If you find yourself in sin this morning, let me encourage you, put your faith in Christ. God isn't looking for you to 'do' something, only to trust what He has already done for you by sending His Son."
So, to the one who feels trapped under sin's thumb, held prisoner to its "power," my word for you today is not to be good enough or strong enough to overcome sin (because — newsflash — you can't) but to believe the freedom Christ's already won for you. Then live in it.
But how?
As Jesus says in John 8:31–32, "If you abide in my word, you are truly my disciples, and you will know the truth, and the truth will set you free."
It comes to this: When you try to overcome temptation and sin by your own willpower, you fail. But when you abide in Jesus, you experience the freedom that comes from being transformed in Him — again and again, and again.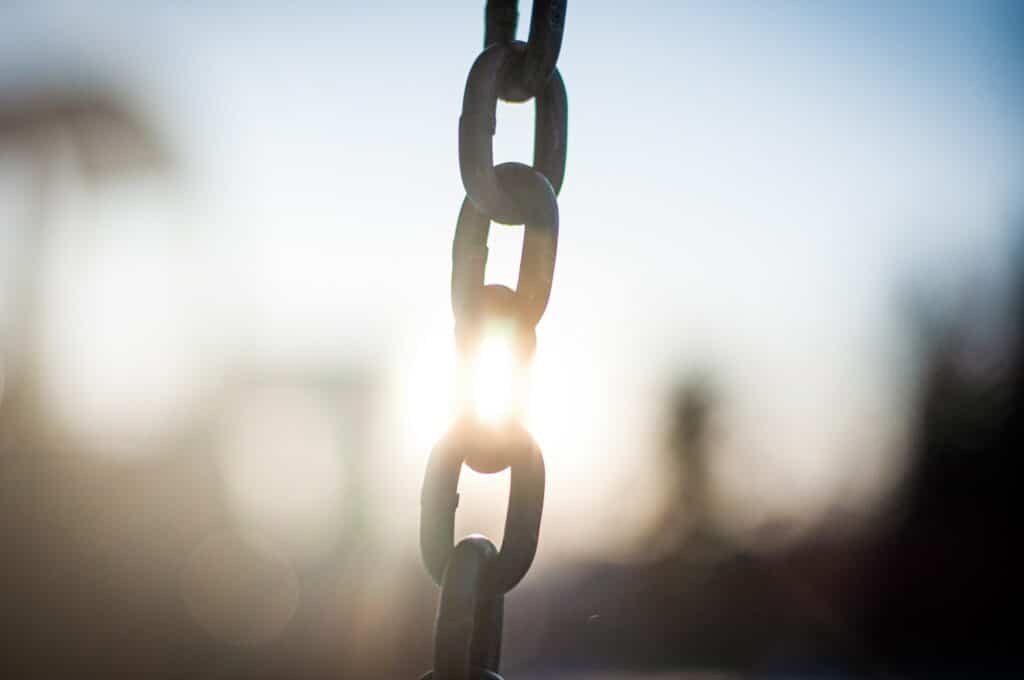 In his letter to the Ephesians, Paul describes the phenomenon this way: "you have heard about [Jesus] and were taught in him…to put off your old self, which belongs to your former manner of life and is corrupt through deceitful desires, and to be renewed in the spirit of your minds, and to put on the new self, created after the likeness of God in true righteousness and holiness." (Ephesians 4:22–24)
The renewal of our minds is a daily process that takes place as we submit ourselves to God. That's our lifelong journey, and we don't walk it alone. You see, God didn't simply release you then abandon you to fend for yourself. He ushered you into a new life with Him, in His Spirit.
As Pastor Ley continued, "The outworking of God setting us free by the Spirit and condemning sin in the flesh by the Son results in a life empowered by the Spirit of God instead of being under the power of sin and the law." This is precisely the "new self" Paul wrote about and the freedom Jesus declared.
Here's the same concept explained in Romans 8:5–6:
For those who live according to the flesh set their minds on the things of the flesh, but those who live according to the Spirit set their minds on the things of the Spirit. For to set the mind on the flesh is death, but to set the mind on the Spirit is life and peace.
We see here that the distinguisher between those who live by the Spirit (the new self) and those who live by the flesh (the old self) is where they set their minds. When we choose to set our minds on the things of the flesh, we reap death. When we set our minds on the things of the Spirit (abiding in Jesus and His word), we experience the life God's liberated us to — one marked by freedom and peace.
Friend, setting your mind on the Spirit doesn't mean you won't stumble. But it does mean that the things of the flesh, of this sin-saturated world, will lose more and more of their pull in your innermost self with each passing day. When this happens, you no longer feel like a victim of sin because you live in the reality of Christ's victory. You no longer put on a good face; you are good. Not perfect, but daily sanctified by the One who is.
So, sinner, don't despair.
If the enemy has deceived you into believing you're a lifer in the prison of sin, recognize today that your cell door is already unlocked. In fact, it's flung wide open. Those chains I talked about? They are broken by the power of the Blood. So, why are you still sitting there? Confess your sin. Receive His forgiveness. Rise up and walk in the newness of life.
Because praise God, Paul didn't leave us hanging after the moment of despair we read earlier:
"Wretched man that I am! Who will deliver me from this body of death? Thanks be to God through Jesus Christ our Lord!" (Romans 7:24–25a)