Discipline.
Patience.
Gratitude.
Everything.
A couple of weeks ago, I threw a question up on my Instagram stories asking my followers, "What has God taught you in 2020?" The answers came in droves, some deep theological thoughts, others more on the practical side. Each answer resonated with me, even though I would not have included some of them on my list.
As 2020 concludes, many of us cannot wait to put the events of this year in the rear-view mirror and drive away. However, we need to take the lessons we have learned in 2020, the things God has taught us, putting them in a suitcase to take with us into 2021. So often, we love to say, "the past is the past" or "it's time to start over." When we assume this mentality, we forget about the beautiful and often challenging lessons that brought us to these moments of change or transformation.
I want to take a moment and share some of the answers I received with you. As you look at this list, note the ones you find similarity in or the ones that would not initially come to mind.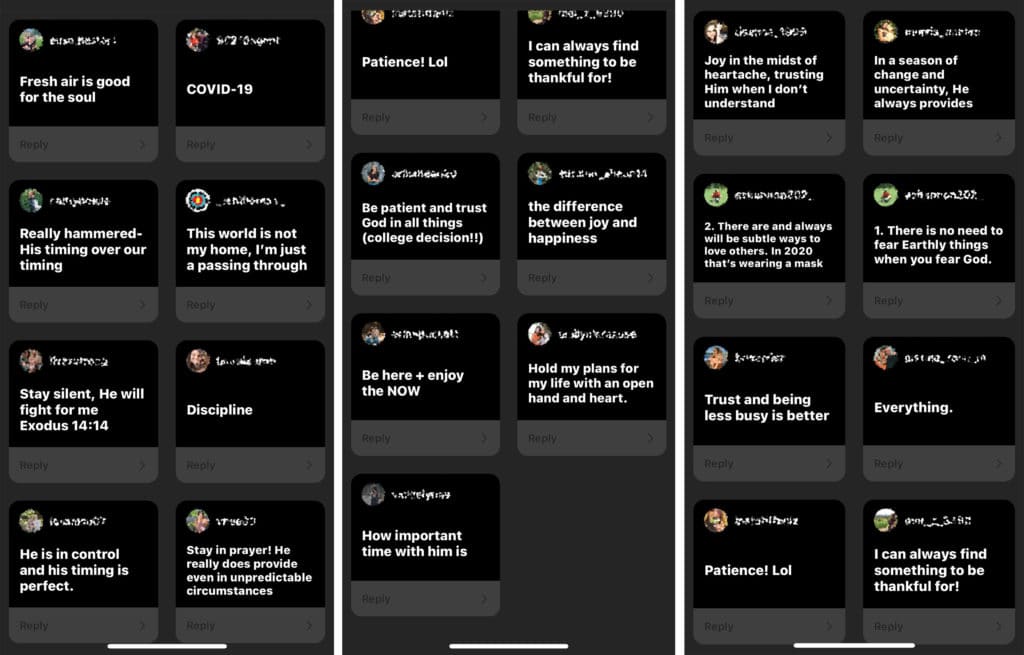 When I see an answer like "fresh air is good for the soul," I think of all the walks I went on or the picnics in the park I had with my friends and family. 2020 showed us new ways to be intentional with one another. A lesson we should all continue in the years to come.
Answers like being present in the here and now, holding plans with an open heart, and the importance of God's timing reminds me of Proverbs 16:9, "The heart of man plans his way, but the Lord determines his steps."
We all had a lot of big plans for 2020. Whether it was a vacation, finding a new job, going away to college, getting married, or starting a family. Our plans were canceled or altered when the pandemic hit, leaving us with extreme disappointment. Instead of thinking about wrecked or rescheduled plans, what if we look at it through the lens of new opportunities. New opportunities to spend quality time with your family, spend time in God's word, call your grandparents, or save money. Sometimes the plans we make for ourselves get interrupted to remind us of God's provision and goodness. A sentiment we must take with us in the years to come.
For many of us, this year has been a year filled with loss. I understand this all too well. This year I lost my last two living grandparents within a few months of one another. I watched both my parents grapple with the loss of their only remaining parent. I watched friends, and loved ones struggle as businesses they have spent their lives building crumble in an instant. But this year has taught me the beautiful song of lament. You see, amid our struggles and pain, God has given us something so beautiful, an opportunity to share our grief and hurts with him. Through all the heartaches 2020 has brought, learning to sing the song of lament has taught me how to regain a sense of joy even when it feels like there is none.
How would you answer this question? What has God taught you in 2020? Maybe the better question is,
What has God taught you in 2020 that you are going to continue in 2021?
I hope these final moments of 2020 come with peace, knowing God is in control of 2021 just as He was in 2020. I hope the moments of despair can lead to a newfound joy or song. As we close the door on one wild ride of a year, let us remember to take these lessons with us into a new year. May we be individuals who continue to carve out time for our families, intentionally show love and kindness to our neighbors — and really get to know them.
I pray that 2021 is a year full of Jesus. A year that is marked by His love displayed through us for all to see.
"But I call this to mind, and therefore I have hope. The steadfast love of the Lord never ceases, His mercies never come to an end; they are new every morning, great is your faithfulness." — Lamentations 3:21–23